In March 2021, Andrew Reise published a study of 416 respondents that worked remotely over the past year. We are presenting the findings in a three-part series. The first article discussed the impact of remote work on company culture. The second article looked into the future of remote work post-pandemic. Now we will investigate employee experience and learn more about what employees miss and don't miss about the office.
If someone had told us ten years ago that most white-collar workers would be working out of their homes and conducting meetings through video chat with screaming children in the background, we would probably have laughed aloud. But, in 2021, this scenario is the proverbial "new normal" and one that organizations across the nation have been forced to adjust to. Even as phrases like "Social distancing," "Zoom fatigue," and "We're all in this together" continue to ring in our ears, the economy is slowly re-opening thanks to COVID vaccines and declining case counts. As we embark on post-pandemic life, companies must decipher what aspects of employee experience are important to them, both in the office and out. Keep reading to find out what employees miss and don't miss about the office.
Pros & Cons Of Remote Working
Employees are the lifeblood of their organizations, and if 2020 showed us anything, they are also highly adaptable to environmental changes. Many employers with remote workers experienced an increase in employee satisfaction, innovation, and productivity. Per a recent Wall Street Journal article, "…productivity software company Prodoscore Inc. found employees were overall more productive and worked longer hours in 2020 than in 2019.
Employees benefited from remote work, too, according to a recent study by Andrew Reise. Participants cited casual attire, lack of commute, and flexible schedules as top benefits of remote work. In addition, the ability to spend more time with their families and spend less money on gas/eating out was also appealing to respondents.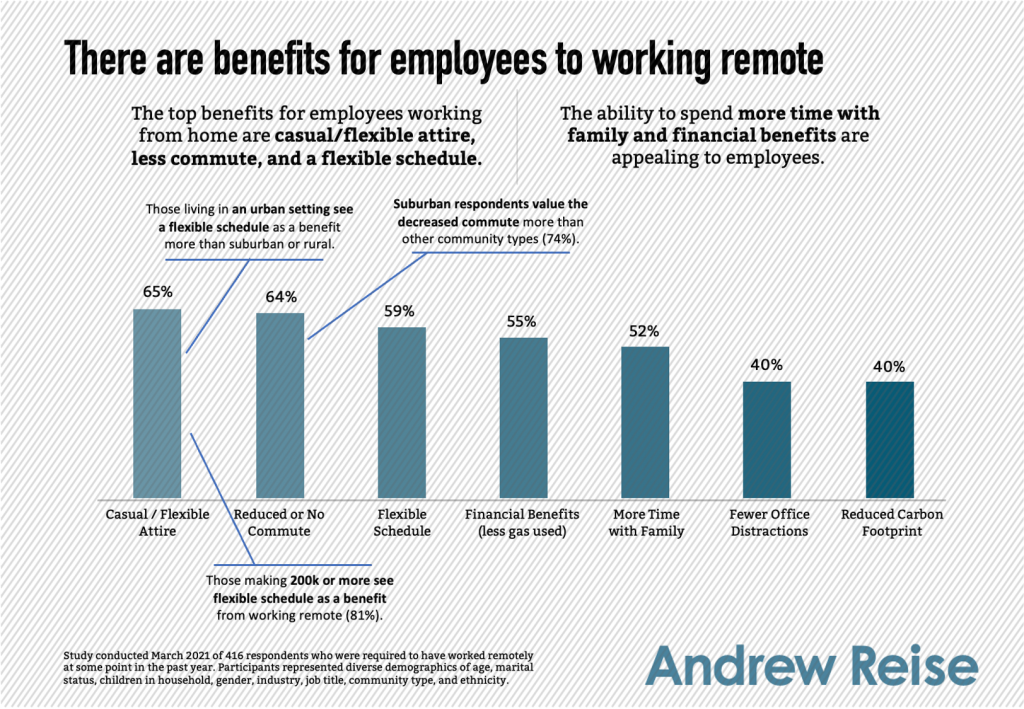 Though our research indicates that most workers prefer a hybrid work model with a few days in the office for collaboration and equipment use, there are still many aspects of the traditional workplace that workers are not keen to return to, such as rigid schedules, traffic, micro-management, in-office politics, and constant interruptions.
Conversely, lack of social interaction was listed as the top disadvantage of working from home, especially among younger respondents without children (53%). Lack of office space also affected urban respondents and those with children at a higher rate (32% and 27%, respectively). Lastly, trouble with sticking to a routine appeared to be a struggle for many survey respondents.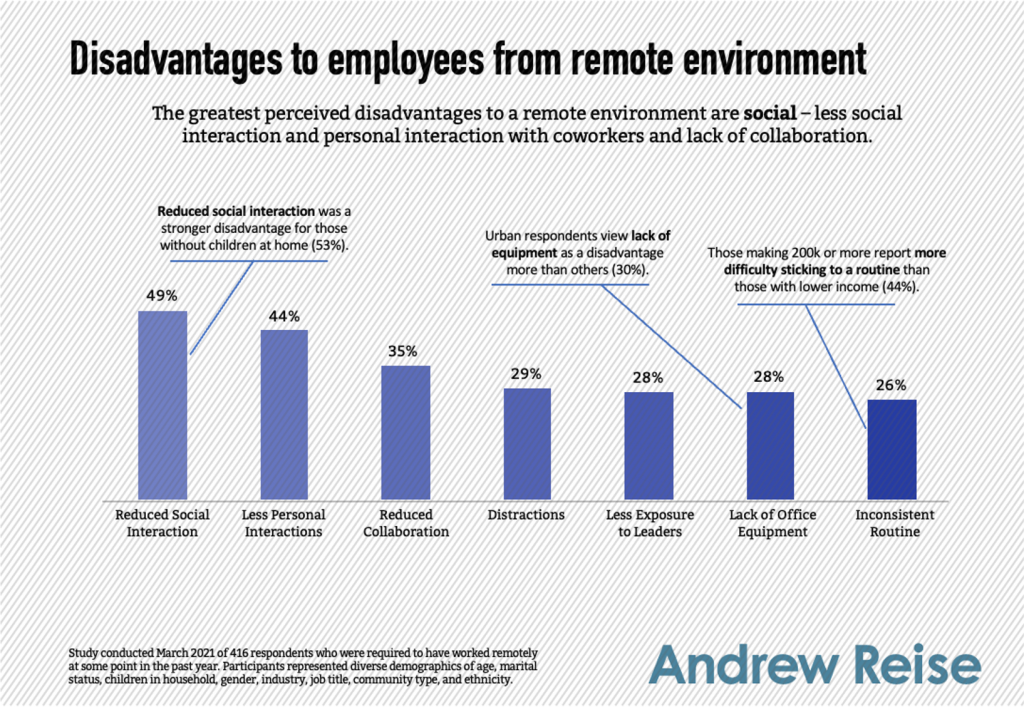 In A Nutshell
Even with all of the benefits of working from home, like canine co-workers, pajama pants, and a lower gas bill, the office still has its place. Respondents of our study said, "Having interactions with people outside my circle," "Exposure to upper management," and "Happy hour after work" were among the things they missed the most about working in the office. To bring it home, working partially at home and in-office appears to be the best fit for employees looking to retain a flexible lifestyle while also having access to the social interaction they crave and the equipment they need to succeed.
If you're still unsure how to move forward with a hybrid work model, just take notes from Microsoft. The tech giant is focusing on three fundamental principles: people, places, and processes. According to a Yahoo! Finance article Microsoft, "…gives managers the freedom to determine whether employees can work from home, embracing flexibility to attract talent. Microsoft also wants its places (its offices) to accommodate those who are both in the room and dialing in virtually. Finally, Microsoft says it's crucial for companies to have processes in place to ensure they're connected to the cloud."
Looking to develop an employee-focused strategy? Check out our latest, the employee experience case study .