In March 2021, Andrew Reise published a study of 416 respondents that worked remotely over the past year. We are presenting the findings in a three-part series. The first article discussed the impact of remote work on company culture, and now, we will look into the future of remote work post-pandemic.
As vaccination rates rise and states across the nation begin to re-open their economies, many companies are grappling with how (and if) to bring their employees back into the office. After over a year of working from home, businesses and their workers are fully aware of both the benefits and the drawbacks of remote work. Employees find the flexibility of remote work attractive while employers enjoy increased productivity with less overhead. Though socialization and collaboration can suffer, it appears that remote work works a whole lot better than many of us assumed at the start of the shutdowns. Moreover, our recent study, we found that remote workers in urban settings preferred the lifestyle flexibility of remote work so much that 33% of respondents considered moving to another part of the country. With soaring housing costs in cities like LA, NYC, Chicago, and Seattle, it's no wonder that remote workers want to escape to areas with lower price tags. Younger, single, and child-less respondents showed an even keener interest in moving out of state, at 74%. With all of these benefits, one might deduce that remote work is here to stay; however, there's more to the story, which we'll dive into below.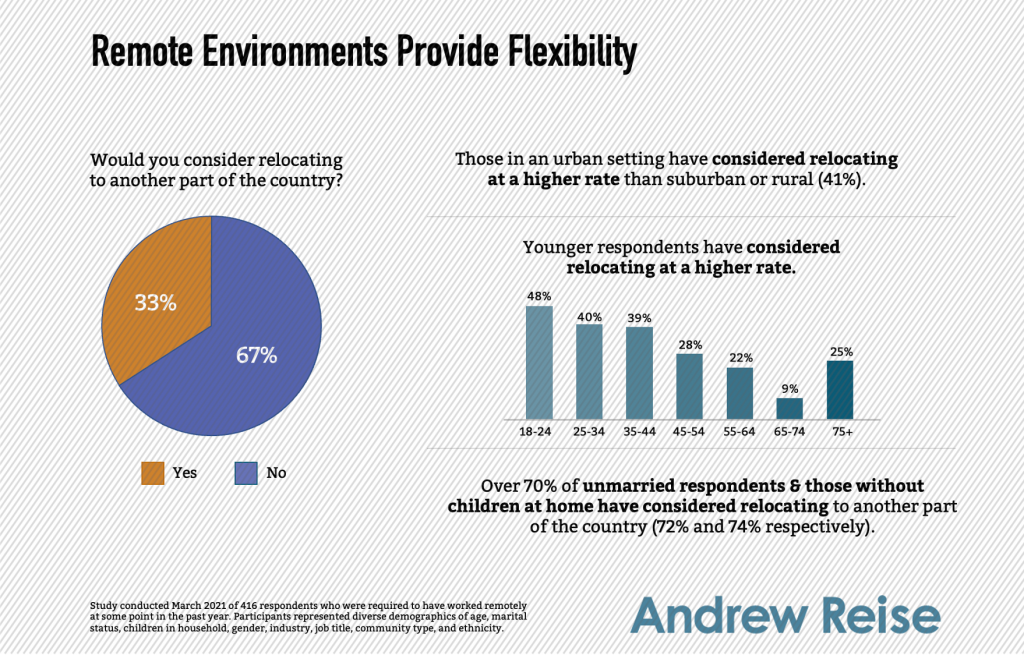 Remote Work & Office Work: A Hybrid Solution
As the economy thaws out from the COVID freeze, businesses across the nation are at a fork in the road: Do they stay remote or bring employees back into the office? As it turns out, this decision doesn't have to be black and white. Our research indicates that employees actually prefer a hybrid work model, part remote and part in office. 55% of our study participants would like to work the majority of the week (3 – 5 days) remotely though location and industry appear to play a role in that preference. 64% of those in rural areas prefer to work from home the majority of the week, while 66% of those in NYC prefer to return to the office. Additionally, workers in education and hospitality are less likely to want to continue with remote work. Even with these differences, the desire for a hybrid model of work is the clear winner.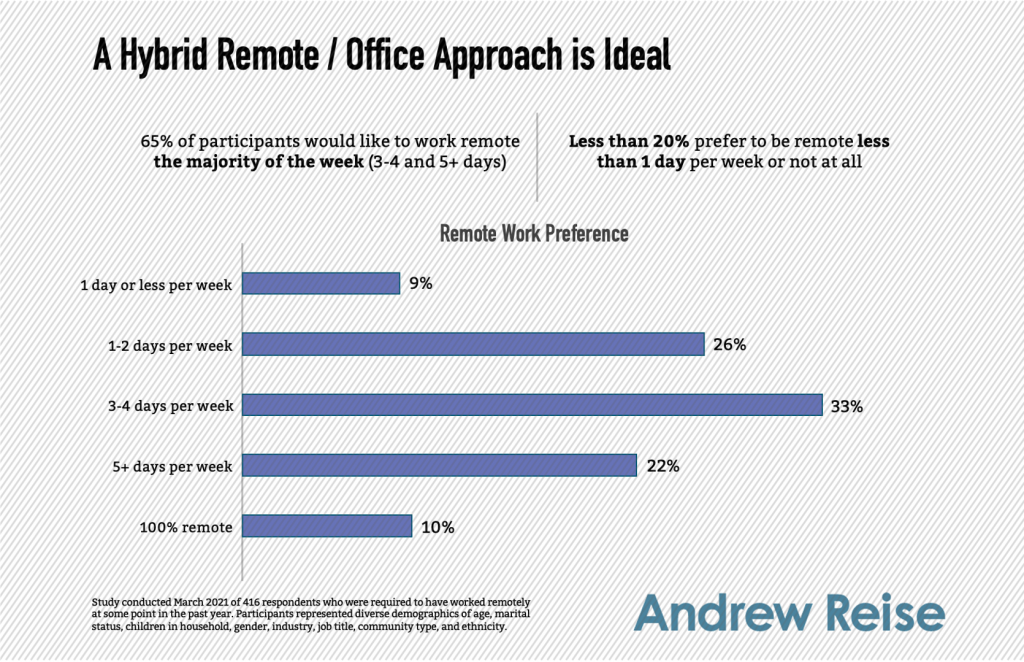 Looking Ahead
As we head into the second half of 2021, it's crucial that employers don't ignore the lasting implications of COVID shutdowns on employee preferences and workplace culture. Over half of the participants in our study (53%) stated that they would like to have office space available for equipment use and collaboration with co-workers. Though the majority of respondents wanted to work most days of the week remotely, it's clear from our data that the need for an office still exists. Culture can be maintained virtually to some extent, but it's not a replacement for face-to-face meetings. Furthermore, workers with higher pay scales expressed a need for office space to meet with clients (46%).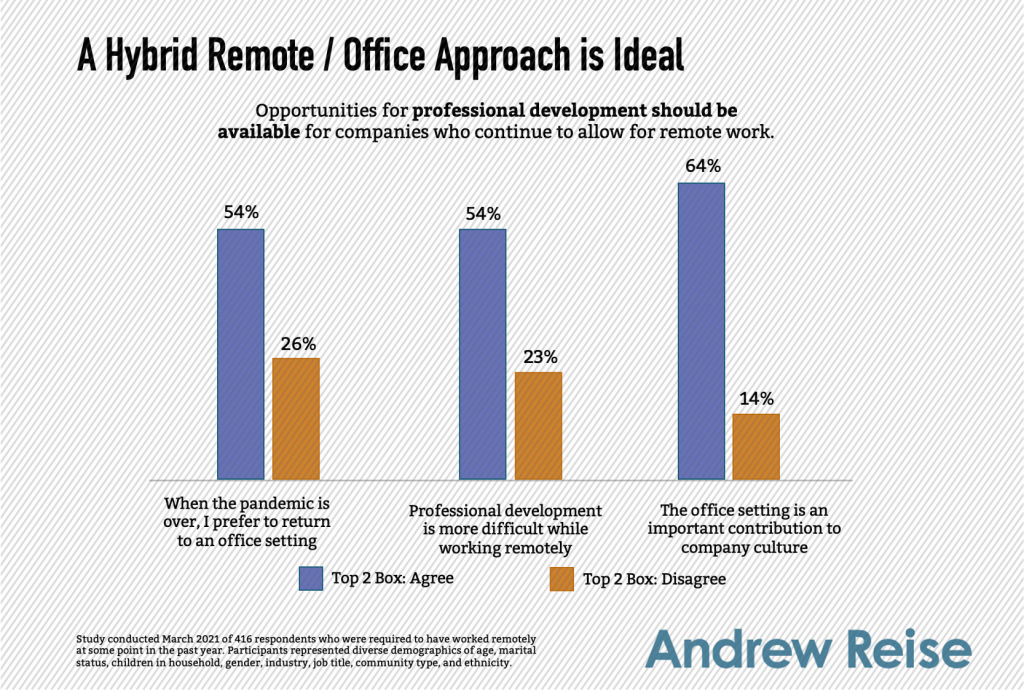 No matter what path organizations choose to walk post-pandemic, those that offer remote work on any basis need to provide professional development opportunities to bolster culture and employee experience.
Looking to develop an employee-focused strategy? Check out our latest employee experience case study