Creating the Right Line of Visibility for Your Customer Experience (CX)
How far behind the scenes of your operation should your customers see? It seems to be a simple question, but pondering it is an important step in providing a customer experience (CX) that keeps them coming back. It comes down to the "line of visibility."
This "line of visibility" is the topic of a recent Forrester Research report, "CX Pros are Blind to the Line of Visibility" by Senior Analyst Tony Costa. Often times, companies have a hard time really seeing their operations, business processes, and employees through the eyes of the customer. Which begs the question – on what should CX pros be focused? What does it mean to set a line of visibility?
A restaurant example helps simply illustrate what seems like a complicated topic. Most restaurants wall off their kitchens from the dining areas so patrons don't have to see gazpacho-splattered walls, cooktops swaddled in tin foil, and sweating chefs who look nothing like Bobby Flay or Giada De Laurentiis.
But a few don't draw the line there. Chains such as Gordon Biersch and Romano's Macaroni Grill, for example, have the kitchen open for all to see. Some restaurants go a step further and offer a chef's table in the kitchen itself. Those dining experiences are different from what most other restaurants provide, which is the point: moving the line of visibility can create opportunities to differentiate.
Many CX pros miss opportunities like these. A found that although nearly two-thirds of them use tools like journey maps, only one in five maps their entire CX ecosystem. "So most CX pros do not understand how employees, business processes, technology systems, partners, and the operating environment come together to enable their customer experience," Forrester Senior Analyst Sam Stern says. "And to make matters worse, this lack of understanding blinds them to what elements in their experience are visible or invisible to customers as they interact with the brand."
As a contrast, businesses that map their entire CX ecosystems enjoy deep, actionable insights. So how can businesses determine the best place to draw the line?
Our perspective to that question is that any modifications to the line of visibility should consider how the changes benefit the experience but also benefit the company. As an example, after mapping out the journey, we typically find numerous areas on which to focus. Some of these are smaller quick hits, and others are larger initiatives. To help with prioritization we use the Value Compass, which helps us narrow the objective. For instance, if a company wants to sell more to existing customers via cross-sell or up-sell tactics, then we may prioritize that over acquiring new customers through new awareness efforts.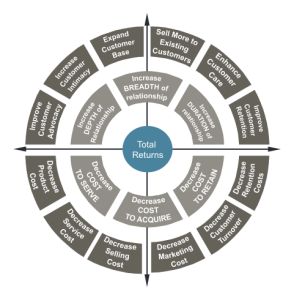 Tony Costa's "CX Pros are Blind to the Line of Visibility" report is available for download. We invite you to take a look, and then contact Andrew Reise to talk about how we can help you navigate the line of visibility to create a CX that really adds value for your audience.
What Drives A Profitable Customer Experience, The Most Critical Factors In the CX-Loyalty Equation Across 17 Industries. Megan Burns, et al.
The Revenue Impact Of Customer Experience, 2015. Maxie Schmidt-Subramanian, et al. August 2015.
Is your company ready to improve the customer experience? Request a consultation to speak with one of our experts.